October 29, 2008
I decided to finally put my journal to use, i.e. for my obsession XD
From here on, I'll be posting about seiyuu, web radio, music and whatever I'm obsessed with at the time. There will be hardly any personal post, thankfully... XD So to anyone who stumble upon this post, I hope you enjoy your visit in this hopefully becoming more interesting journal.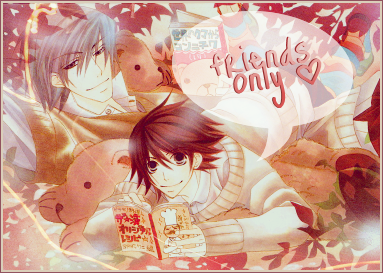 Banner:
Credit
to
breakfastgirl

This journal is more like semi-friends only rather that friends only but I always wanted to try putting up friends only banner. If you want to read all of my posts, you'll have to comment here and I'll friend you back. Otherwise, you'll still have access to all my non-personal posts including downloads (I don't locked those posts). That will spare you from my emo moments. *winks* That's all I'm going to say.
Happy leeching!
First I want to apologize it this turns out to be tl:dr post. And I also apologise for any mistakes and inaccuracy, my memory is really bad haha.
Current Mood:

accomplished

Current Music:

Riot of color - Riot of color
I've just experienced the best birthday I've ever had (that I remember xD). Not that the previous birthdays have been bad or anything. I'm just never a birthday person and I usually don't think much about it. I guess this time it feels super special because I've been feeling down about a lot of things lately and because I'm currently living by myself in a city where I know no one haha. But anyway...
So everything started on the 5th of September, a day before my birthday. I thought it's going to be just another birthday. Another day, especially since I'm all by myself this time around. My good friend on twitter and here,
rbjg
(and my lovely lovely LOVELY waifuu) posted that she tried singing 「ねぇ。」(one of the vocaloid song I love) and I told her I want to listen to it. She then goes out of her way to dedicated her recording of 「ねえ。」 from her favourite hill in her neighbourhood to me. How romantic! XDDD So I thought maybe this is some sort of birthday present but I thought it was just me being full of myself wwww So I went to sleep as usual that night not really thinking about birthday. (OH! And my friend texted me an early bday wish due to a lil misunderstanding XD It made my afternoon coz I found it hilarious lol).
The next morning however, I woke up to her tweet wishing Happy Birthday along with her recording of 「なまえのないうた」 for me. She changed the title to "Namae no waifuu uta" wwwwwww and changed part of the lyrics to include my name. It was really touching that I cried while listening to it during my lunch break (even now, I'm still getting all teary eyed just remembering it).
And then everyone was wishing me Happy Birthday, family, friends, everyone. Every single one of them felt more profound than ever and I was already feeling overwhelmed everything. But it didn't stop there. That same night, my dad called to tell me I have received a package from Singapore. I knew straight away this is another one of waifuu's doing. Bless that woman, I don't deserve her. ;A;
The next day, another friend of mine dedicated another song for me. Aaaaaaaah, why am I surrounded with so many good people!!! And thanks to all the well wishing and my stalkery tendency, I made new friends on twitter within that day and the next day. lol, yeah. Would be nice if it happens in real life too XDDDD Anyway, there was a reason why I didn't go home for my birthday. It was because my good university friends decided to come visit on the Sunday so I postponed the trip to the next week. I was quite tortured by the idea that I can't open the package from waifuu until the next week but THEN! My friend told me she can pick up the package and bring it here with her. AAAAAAAAAAAAAAAH, SEE HOW MUCH I'M LOVED!!!
So today is THE Sunday, I was already super excited to be able to catch up with them. I was fully buzzing with anticipation. At 9:30 my friend texted me that she picked up the package (YAAAAAAAY!) and at 12pm, they arrived! o><o
They brought me presents!!!
Coffee and "bowl" mug and chocolate!!
See, I haven't reached the level of coffee addict yet but I do love coffee and always appreciate a good cup of them in the morning when I need to wake up. I've also ALWAYS wanted my own "bowl" mug to wrap my hands around. And who can say no to chocolate really? XD So these are like the perfect presents for me. Gosh, friends! You are all too good for me. >////<
Then! My friend brandished the package I've been waiting for. I fully ripped the wrapping off like a child getting their first present.
And I got these!!!
Just look at that card!!! D'AAAAAAAAAAAAAAAAAAWWWWWWWWWWWWWWW!!!!!
!! <33333333
She gave me a BOOK COVER!!! HOMEMADE!!!! Aaaaaaaah, you have no idea how much I wanted this. I've been searching for one all over nz to cover my BL books! xDDDDDDDD Fujoshi dillema, to read in public or not wwwwwwww And it's so cute too!!! <333333333333
Her message to me is so sweeeeeeeeeeeet toooooooooooooooo!!!!
Waifuu, your handwriting is really nice! *A*
You see that little Micha stamp in the corner? That's homemade too!! Don't I have, like, the best waifuu ever?! JIMAN FEELS!!!!
Close up of the stamp
It's so cute I don't even...
So thanks again for everything you guys! I know people don't actually read this blog but yeah lol. THANK YOU SO MUCH! You made feel like the happiest person in the world these past few days. And although I've been feeling quite depressed over life in the past few months, right now I can earnestly say from the very bottom of my heart, that I've never been more grateful to be alive and to be able to meet all you wonderful people ;A; (<---- I'm like this right now, literally. lol) And a very special thanks to waifuu! I don't think any words can describe how grateful I feel to have met you. I wish I'm in Singapore right now just to give you an actual tackle glomp lol. AI RABU YU SO BERI BERI MACHI!!!!
And now coz I just can't wait to put the mug into use, I'm putting an end to this wonderful night with a nice cup of hot chocolate~! I can't have coffee this late else I won't be able to sleep haha >< (well, I did add a tiiiiiiiny spoonful of the coffee though. So technically it's a mochachino XD)
I'm currently overwhelmed with so much feels I just have to blog about it.
Current Mood:

grateful
They play acoustic, easy listening music with the gorgeous voice of Yamamoto Takane crooning melodiously and soothingly over the lovely guitar playing from Yamaguchi Akihisa.
Here I'm sharing one of their mini-album after they went independent. I will in time share their dischography once I'm done ripping my collections (just need to find the CDs ><) but for now I hope you enjoy this mini album as much as I have.
Callin' - Utakata
Tracklist
1. Saigo no LOVE LETTER
2. Utakata
3. Yoru ni umorete
4. Aitai
5. Mune no akari (LIVE)
(
mediafire
)
高鈴 (read: kourin) or Callin' is one of my favourite Japanese duo.
Current Mood:

calm
Personality: Hirakawa Daisuke & Tachibana Shinnosuke

( Download )
Here's the recording to the nico nama housou for Shukan Soine CD series
Current Mood:

productive
The lyric is so lovely. And Gero sounds amazing here ;A;
Aaaaaaaah. I love him! Love him! Love him!
Just imagining him singing this to me is.... /melts

I'm grossing everyone out with this post, aren't I? |D
「INNOCENT」
作詞・作曲:Don McCow
編曲:A-Chap
歌:Gero

愛してる 言葉にすれば なんて陳腐に
聞こえ るんだろ
Baby 真実を語ろう
お前の肩 抱き寄せてる 夜明け前の
この瞬間を
Baby 生きてると感じる
とめどない 落涙の日々を越えて
お前に 伝えたい My song for you
これから重ねていく日々の中でつまづいても
俺がそばにいると誓う

とめどない 落涙の日々を越えて
お前に 伝えたい My song for you
これから重ねていく日々の中でつまづいても
俺がそばにいると誓う
愛してる 言葉にすれば なんて陳腐に
聞こえるんだろ
だけど 眠るお前にささやく
I love this song so much.
Current Mood:

♥loved♥

Current Music:

Gero - INNOCENT

This is the lyric to one of my favourite song from UPLIFT SPICE ♥
I especially love it for the rather sad lyric.
It just pierced through my heart.
After all, partings are never easy especially one that is forever...
KATACHI 「カタチ」
By: UPLIFT SPICE
(
Kanji lyric
Collapse
)
(
Romaji lyric
Collapse
)


Does anyone want it?

That's all folks
So I think have some spare dreamwidth and google wave invitations.